I wanted to create one location that family and friends can go to for the best deals available each week. Every little way of saving a nickle or dime helps us all!
Sunday, January 30, 2011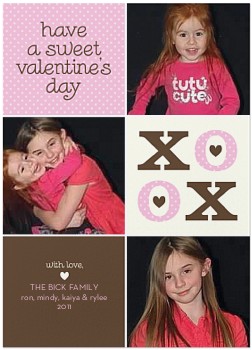 Love Is Sweet Valentine's Day Card

Friday, January 21, 2011
Amazon has temporarily marked down the 'Roseflower Creek' e-book by Jackie Lee Miles to FREE! Keep your tissues handy for this one!
Roseflower Creek Free E-Book Link
Wednesday, January 19, 2011
Mamapedia is offering a fantastic deal right now! You can get a 20-page soft cover photo book from Shutterfly for only $6!
First of all, if you are not signed up, you can sign up here:
Mapapedia Link
Then use this link to buy your photo book and enter the code SFLY4 to save $4 off the feature price of $10. You get a $20 photobook for only $6!! Shutterfly is by far my favorite photobook site! Get yours now!
Shutterfly Photo Book Link
This deal ends tonight, so act fast!